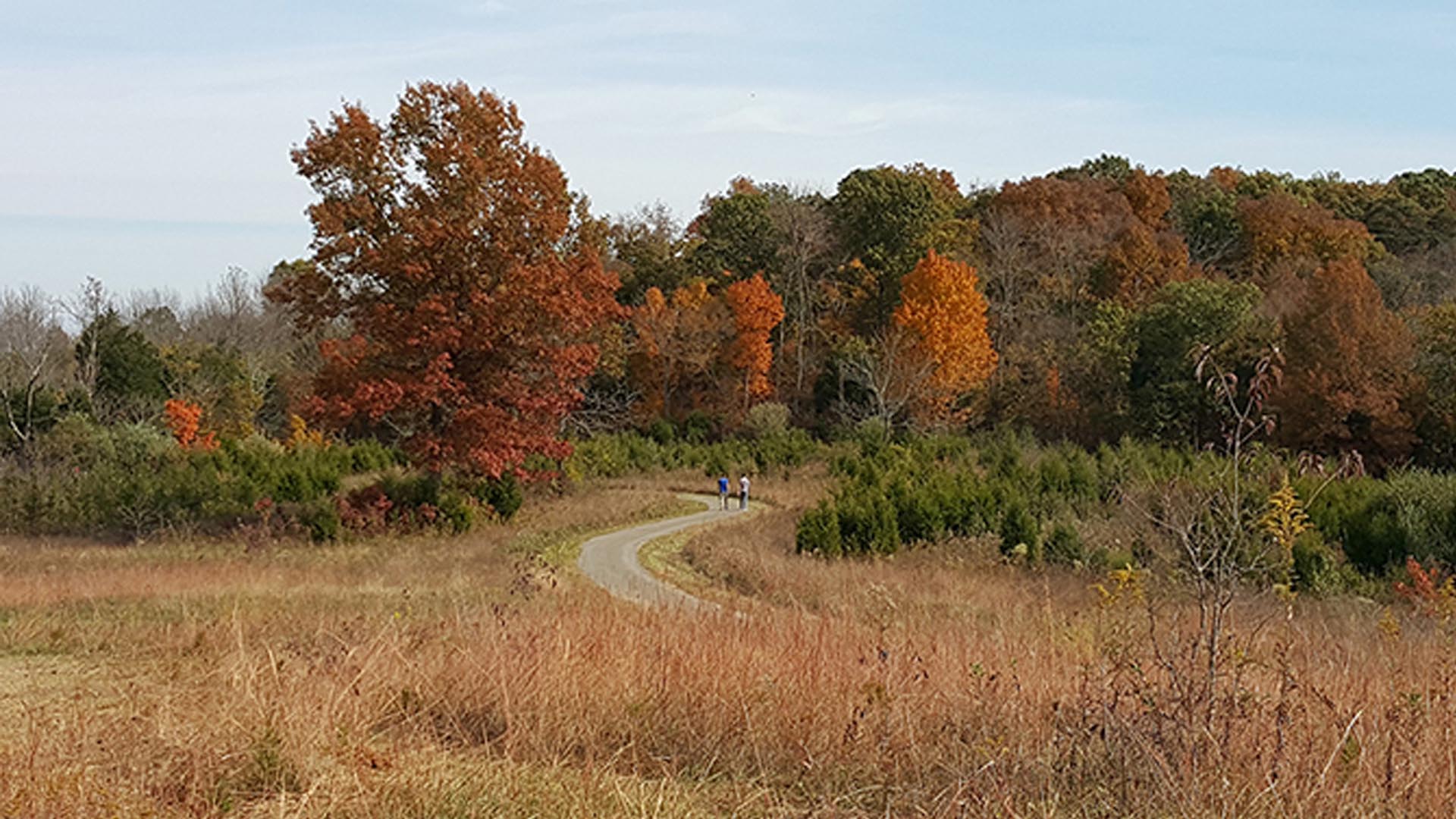 Fall Foliage Peak at The Parklands
Beckley Creek Park, Broad Run Park, Pope Lick Park, Turkey Run Park
October 25 is estimated to be peak color time for the Louisville Region according to the Smoky Mountain 2021 Fall Foliage Map.
Long before pumpkin spice lattes and flannel-scented candles, there was plenty to love about fall. The holiday decorating and festivities are tons of fun, but the natural characteristics of the season are plenty to get excited about, especially when you happen to live near the largest continuous eastern deciduous forest in the United States.
Mid to late October is the best time to come out and see our trees as they put on a show before becoming dormant for the winter. In between the corn mazes and pumpkin patch visits, make sure to get out and enjoy the changing colors of the season with a hike, bike ride or scenic drive at The Parklands.
Here are a few spots where you can take in autumn's beautiful colors:
FOR BEGINNERS
Sky Dome
For a relaxed stroll fit for all ages and abilities, head to Sky Meadow Excursion Trail in Turkey Run Park. This easy-level excursion trail has great views from start to finish. Begin at Boulder Pond, where you get double the views as the bright colors reflect off the calm surface of this popular fishing spot. Follow the paved path as it winds east and then south. Take a side trek past the stone walls for a surprise lookout we like to call Sky Dome. Return to the trail to continue winding through Sky Meadow. Take a right onto the Louisville Loop to get back to Boulder Pond.
Trip Tip: Parking is limited at Boulder Pond, so try to get here early to beat the crowd.
Lake Overlook
While the hills of the southern parks might lead you to believe they have higher elevation, the highest point in the park is actually located near the northernmost tip of our park system. Park at William F. Miles Trailhead in Beckley Creek Park to take a stroll along the Louisville Loop where you can see views of Middletown and beyond. For an easier walk, with fewer hills, take Fishermans Trail instead, a short, paved pathway that ends at Angler Lake, providing 360 degree views of the three largest lakes in The Parklands.
Trip Tip: Pack a picnic to enjoy while you're enjoying the views at the Lake Overlook Picnic Access.
INTERMEDIATE
Big Beech Woods
The majority of our natural trails contain scenic views along Floyds Fork and through riparian forests, but back behind the sports fields and paved Louisville Loop Trail lies a gem of a soft-surface trail in Pope Lick Park. Big Beech Trail takes hikers into one of the park's old-growth forests. Naturalist Michael Gaige estimates that the Beech Trees in Big Beech Woods range from 250-300 years old! These native beauties can be identified by their smooth, grey bark. During the fall, look for their golden-bronze leaves.
Trip Tip: Bring plenty of water, a good pair of hiking boots and, on a sunny day, a hat for this lengthier walk that requires hikers to follow the Louisville Loop for approximately ½ a mile before accessing the trail.
ADVANCED
Silo Lookout
One of the first locations to come to mind is, of course, Silo Lookout at the Brown-Forman Silo Center in Turkey Run Park. Climb the 109 steps for fantastic views of Turkey Run Forest and the surrounding areas. Take a closer look by following your climb with a walk on Paw Paw or Hickory Trail just east of Brown-Forman Silo Center.
Trip Tip: A group of paper wasps has taken to hanging out around the dome of Silo Lookout during warm, fall afternoons. Plan to visit early in the morning, while the temperatures are still cool.
Limestone Gorge
If you pick the right day (a day or two after rainfall) you will get double the treats with a fall hike on Limestone Gorge Trail in Broad Run Park. In addition to the main gorge itself, (just north of the trail entrance on the Louisville Loop) the natural rock layers found along the Limestone Gorge Trail create cascading, seasonal waterfalls fed by rain.
Trip Tip: Limestone Gorge is accessible via the paved Louisville Loop, but give the Limestone Gorge Trail some extra time to dry out following heavy rain.
SCENIC DRIVE
A drive through our four parks is a great way to spend a fall day while enjoying the foliage. Our "scenic drive" directions help guide you between parks. Start your journey at the main Beckley Creek Park entrance on Shelbyville Road, and end with a picnic in Broad Run Park on the opposite end. Scenic Drive Directions
Make sure to also check out our events page for more info on fun fall events at The Parklands! www.theparklands.org/events