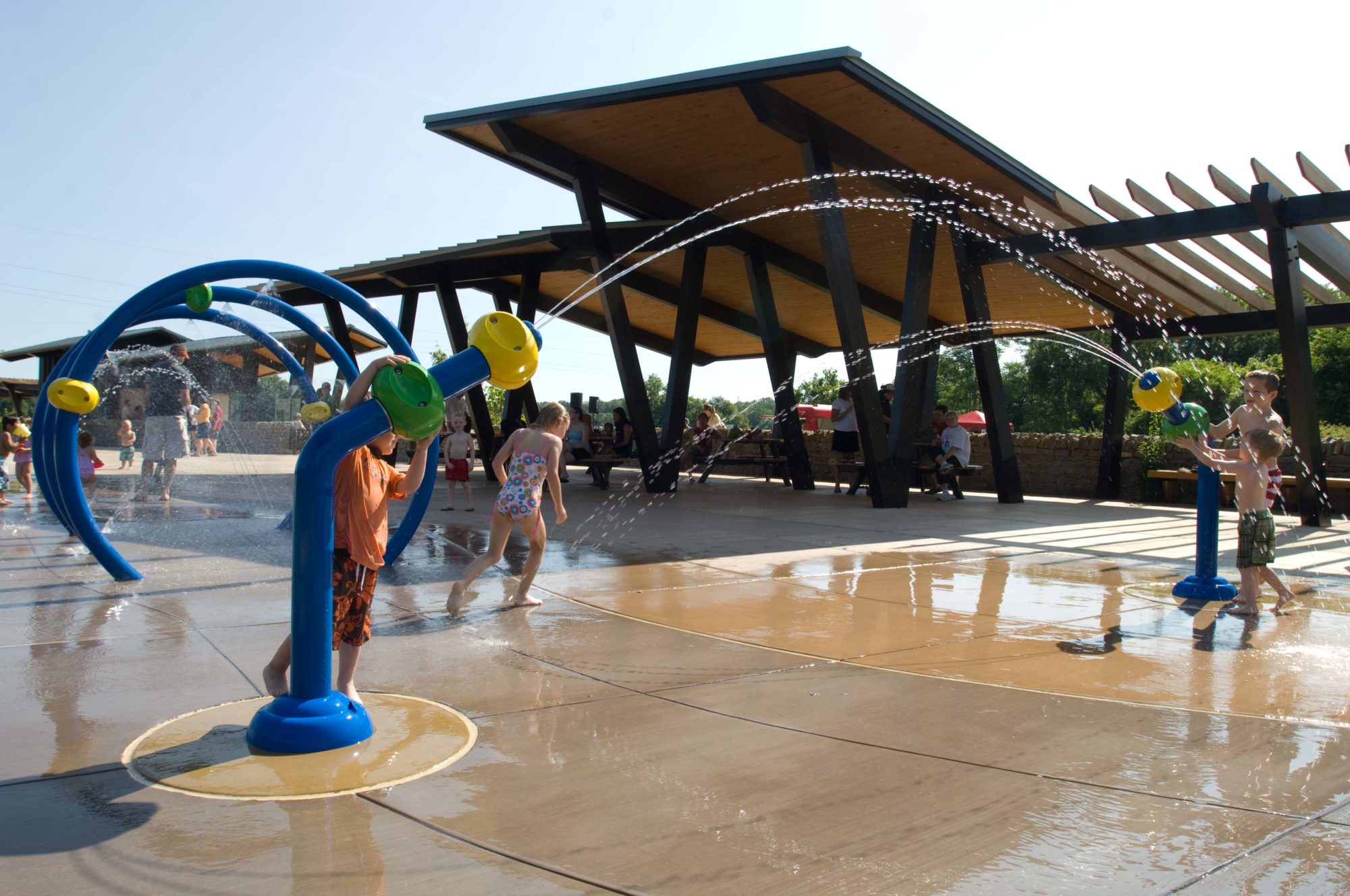 Spraygrounds in The Parklands Open for the Season
Beckley Creek Park, Broad Run Park
Louisville, Ky. (May 3, 2021) —Water is now on at spraygrounds in Beckley Creek and Broad Run parks. Both spraygrounds are adjacent to playgrounds featuring accessible equipment for children of all ages.
Prior to visiting The Parklands, caregivers should take note of the following safety tips:
Please do not use equipment if you or your child have a fever or any symptoms of COVID-19.
Playground users should wear a mask or face covering and maintain at least six feet of distance between each child and adult not in the same household. Sprayground users should wear masks when not in the water.
Equipment is not cleaned and sanitized daily. Families use equipment at their own risk.
Crowds are strongly discouraged during the COVID-19 pandemic. If the number of people gathered in a location makes you uncomfortable, please find an alternate playground and sprayground or come back at a later time.
All caregivers should help children follow the posted guidelines. Each family should use their own discretion when deciding whether or not to use amenities in The Parklands. If the number of people present makes you uncomfortable, consider hiking a nearby trail and returning at a later time. Many of The Parklands trails are easy and accessible to all, including small children. Maps with more trail information, including routes, mileage, and level of difficulty can be found at park trailheads and kiosks or online before your visit at www.theparklands.org.
The Parklands is closely following developments and guidance regarding the ongoing pandemic, and we will update our response as needed. View the latest news and information at www.theparklands.org.
Discover The Parklands of Floyds Fork
The Parklands of Floyds Fork is a nearly 4,000-acre visitor-supported public park system in Louisville, Kentucky, stretching from Shelbyville Road to Bardstown Road. It consists of four major parks—Beckley Creek Park, Pope Lick Park, Turkey Run Park and Broad Run Park—linked by a world-class urban trail system and a remarkable water trail tracing Floyds Fork, a classic Kentucky stream. Serving more than 3 million visits each year, The Parklands offers something for everyone, whether you are looking for a quiet place to discover nature, a dynamic learning experience through the Outdoor Classroom, a cruise on a scenic park drive, or a stream to paddle. The Parklands is free to enter, but does not receive tax dollars for annual upkeep or operations. Ongoing maintenance and operations are funded through private donations, program and event fees, and an endowment fund. Donate today to become a Parklands Member and support the parks you know and love. Learn more and plan your next visit at www.theparklands.org.
For regular updates on what's happening in The Parklands, subscribe to our e-mail newsletter at www.theparklands.org, follow us on Facebook @theparklandsoffloydsfork, Twitter @TheParklands and Instagram @theparklandsoffloydsfork. Check out our YouTube channel – TheParklands1 – for trail previews and educational activities.
###