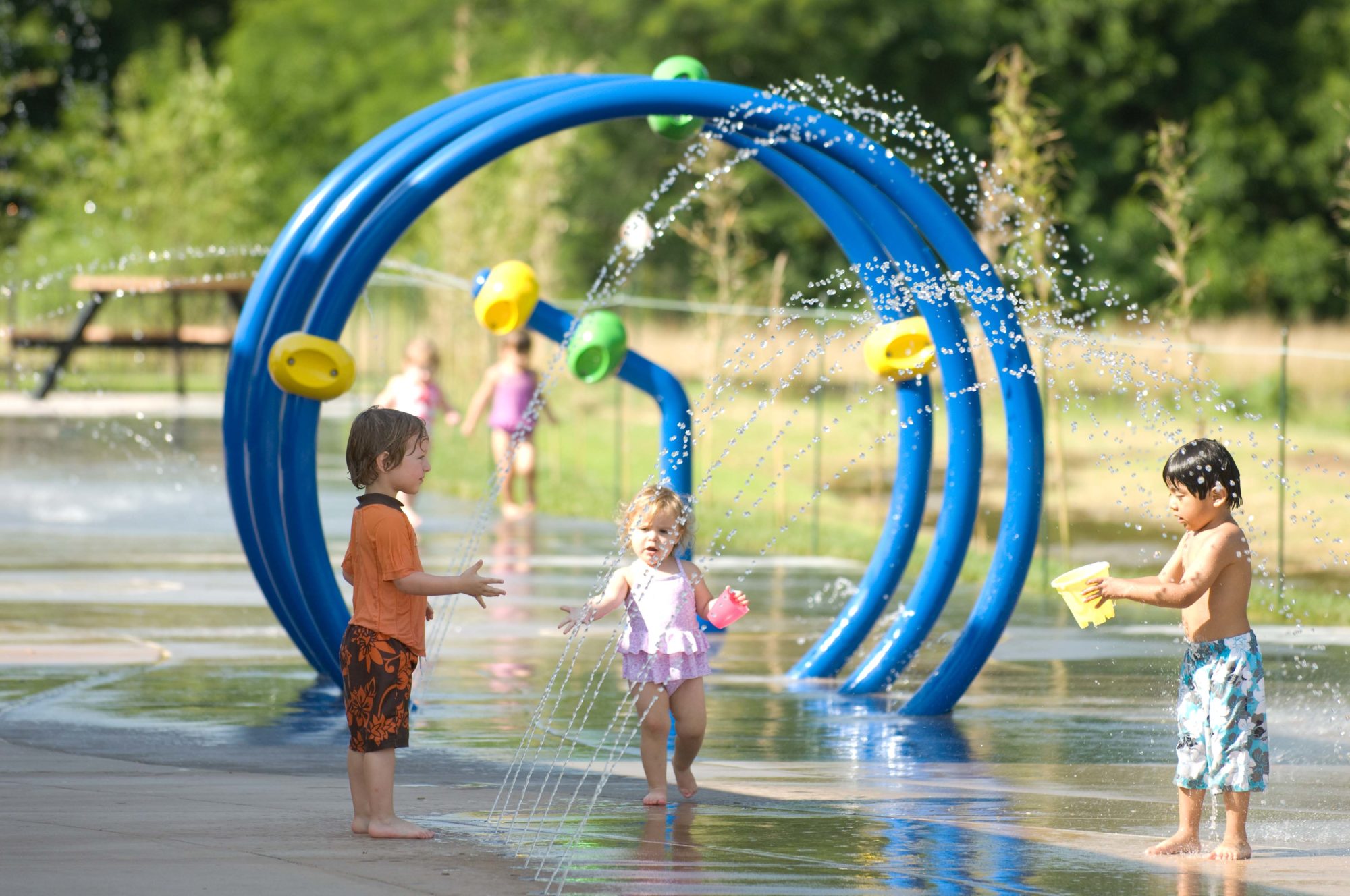 And they're off . . . to the Sprayground!
Beckley Creek Park, Broad Run Park
It's Derby week, but families across Louisville are racing to The Parklands to enjoy some beautiful spring weather! We're ready for you with the Marshall Playground and Sprayground, Egg Lawn, Cliffside Playground and Sprayground, and tons of other activities and events sure to keep your family actively engaged in the great outdoors all season long.
The water at the spraygrounds will be turned on for the season on Friday, May 6, 2022.
The spraygrounds at Creekside Center in Beckley Creek Park and Cliffside Center in Broad Run Park will be open daily from 8 a.m. to 7:30 p.m. (and will stay open until 8 p.m. beginning in June). The water will remain on, weather permitting, through September. The playgrounds and spraygrounds are free to enter, thanks to the support of our generous visitors and donors. For the most up-to-date information, including updates, alerts, or closures, please visit theparklands.org.
The water in the spraygrounds is set up to run on a four-minute cycle.  To turn it on, simply press the button found on the bollards at either end of the parks. Instructions and rules are posted on the orange signs that can be found in the playground/sprayground area.
Click here to learn more about the spraygrounds.
A couple of reminders for visiting The Parklands during the busy season:
When using the playgrounds and spraygrounds, all visitors should abide by the posted playground and sprayground rules.
Parking on busy weekends can be tough. Please be courteous and park only in designated spots.  If your favorite parking spot is full, continue around the road to find another spot and perhaps learn about a new park amenity in the process.
Be Park Smart – while we take great pride in the safety of The Parklands, we count on you to be a part of that. Don't leave your purse, wallet, or other valuables in plain sight in your car.  Put valuables in your trunk – or better yet, leave them at home.
The Louisville Loop can get quite busy at times so be aware of your surroundings and traffic.  Remember, let folks know if you are passing and ALWAYS pass on the left. Courtesy goes a long way in helping everyone to have a great park experience.
Stay in the know by visiting theparklands.org/alerts, where you can get the latest information regarding alerts and updates.
Whether you're coming out to soak up the sunny weather at the playground and sprayground or if you prefer to soak up the sights and sounds of spring on a trail hike, all of this is made possible thanks to visitors like you. Be a part of keeping these parks free and open to the public 365 days a year by becoming a Member today at theparklands.org/donate.