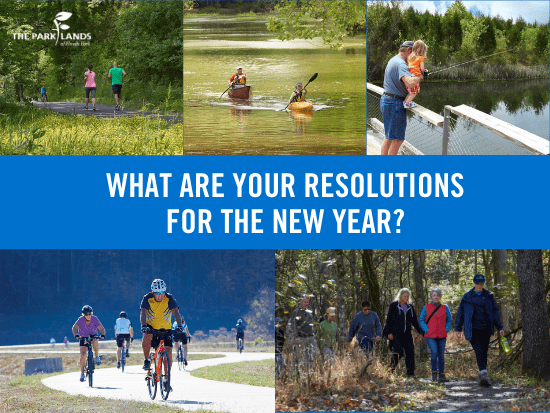 Bike Park, Fishing Spot, Floyds Fork, Garden, Paddling Access, Trail
Achieve Your 2021 Goals at The Parklands!
The New Year is upon us and that means it's time for New Year's resolutions! Whether you are looking to learn a new hobby, be more active, or just get outside more, The Parklands of Floyds Fork is a great place to achieve your goals! From hiking in the park to birdwatching to the thrill of paddling excursions on the Fork, there's something here for everyone to enjoy. Let's take a look at ten ways you can get started on your goals for 2021, right here at The Parklands:
Happy Trails
Lace up your running shoes or hiking boots and start your year off right on one of our many trails! Walking, hiking and running are some of the most accessible activities for improving your health, exploring the park, and experiencing nature. With 60+ miles of trails, including 19 miles (one-way) of the paved, multi-recreational Louisville Loop, there is so much to see on your next walk or hike through The Parklands! The parks offer a variety of paved, dirt, or stone surfaces, with routes that range from less than a mile to over 10 miles. Whether you're looking for a leisurely stroll or a more challenging hike–we've got you covered. Learn more about our hiking trails here.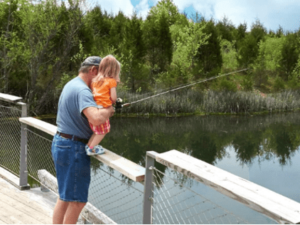 Go Fish
Year-round, you can drop a line in William F. Miles Lakes in Beckley Creek Park, Boulder Pond in Turkey Run Park, or along Floyds Fork. In addition to the variety of fish species that call The Parklands home, Floyds Fork and select lakes and ponds are periodically stocked with game fish as part of Kentucky Department of Fish and Wildlife's Fishing in Neighborhoods (FINs) program. Fishing licenses are required if over age 15, and can be obtained at local sporting goods stores or at http://fw.ky.gov.  Learn more about fishing in The Parklands, including the stocking schedule, here.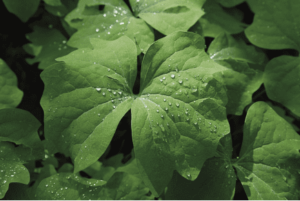 Fun with Fungi and Plants
If one of your goals is to take up a new hobby, plant and fungi identification is a practical and fun skill to learn! Check out our educational videos or follow along on a guided hike with our Interpretive Rangers and learn all about the native plants you might encounter on your next trip to The Parklands. Get started today by watching special, virtual installments of our Park Roots speaker series and learn more about tree identification, leaf identification, or fungi identification with Education Director Curtis Carman. Be sure to follow us on social media to stay in the know about upcoming events and educational opportunities!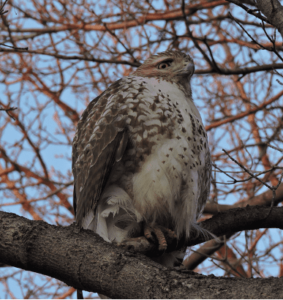 It's a plane, It's a bird!
If you're looking to learn a new skill, birdwatching is a great option. With a little bit of patience, a pair of binoculars, and a keen eye, you can become a pro in no time! Birding is a fun and exciting hobby shared by many Parklands visitors, so you might even get to make some new friends along the way. Get started with this blog about winter birds in The Parklands, or this special, virtual edition of A Majestic Migration, part of our Park Roots speaker series. Stay tuned in to our social media for more information about upcoming events and resources!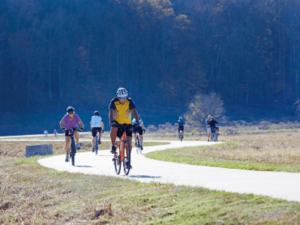 Get Rollin'!
One of the most popular ways to get outside and enjoy The Parklands is cycling. Whether you prefer a smooth, paved road, or a rugged dirt trail, The Parklands offers a great biking experience. Choose your route based on the trail usage, distance, and difficulty information, and then get rollin'! Try out one of our mixed-use trails, or if you want to practice your singletrack skills, the Silo Center Bike Park in Turkey Run Park is open seasonally! Outside of the Silo Center Bike Park, singletrack trails are open year-round, but might be muddy during the winter. Use this as an opportunity to check out our paved paths, including 19 miles of the Louisville Loop. Learn more about biking in the park here.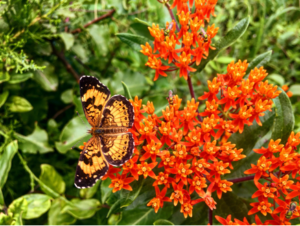 Do the Shutterbug
From fascinating wildlife to vibrant wildflowers to wide-open views of the Kentucky landscape, there's no better place to hone your photography skills than right here at The Parklands. Learn about some of the best places for sightseeing around the parks here. For the best chances at spotting wildlife, Interpretive Ranger Erin recommends getting to the parks early in the morning. The Parklands is open all day, 7 days a week, so there's plenty of time to get the perfect shot! Please note: we do require a permit for commercial photographers. Contact our Facilities team to learn more about permits at events@21cparks.org or 502.815.0277.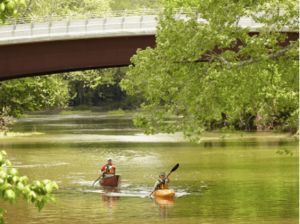 Get Paddling!
Spring and Fall are best for paddling on Floyds Fork, but you can take advantage of winter rain and unseasonably warm days with a paddle on Floyds Fork. With 22 miles of this beautiful, natural waterway meandering through the parks, you can put in or take out at any one of seven access points along the Fork, so you can plan a trip that's perfect for you! Water/CFS levels are updated on our website so you can keep tabs on the water conditions before and during your outing. Looking to borrow a boat? Canoe and Kayak rentals are available through Blue Moon Canoe and Kayak from April to October. Learn more about paddling at The Parklands here.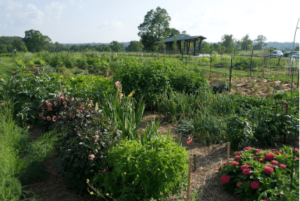 Plant a Seed
If one of your resolutions is to find your green thumb, you can plant that seed right here in the parks! The William F. Miles Community Gardens in Beckley Creek Park is one of the most successful community gardens in Jefferson County. During the spring, summer, and fall, this garden offers a place for our community members to grow all kinds of beautiful plants and flowers. There may be a waiting list to secure a plot. To learn more about plot reservations at the Community Garden, please call the Jefferson County Extension Service at 502-569-2344.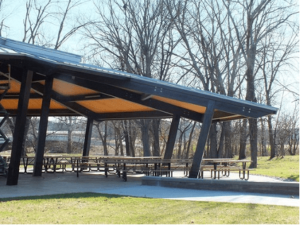 Relax with a Picnic
Many people make New Year's resolutions to eat healthier or to get outside more, and a picnic is the perfect way to do either! When the weather warms up, dine out in nature at any of our free picnic areas, or put out a blanket on one of our lawns or fields and enjoy a special meal out in the parks. Whether you're looking for a peaceful place to enjoy your lunch break or a wide-open space to connect with family or friends, we've got just the spot. Most picnic areas are first-come, first-serve, but we do offer a variety of venue rentals for special occasions or events. Learn more about picnicking in The Parklands here.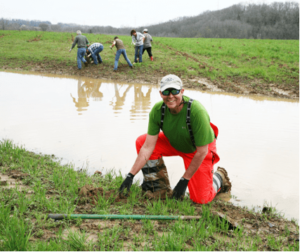 Give back!
If one of your resolutions is to give back to your community, volunteering can be a great way to do that. Although Parklands volunteer opportunities are temporarily on hold due to the ongoing pandemic, we hope to resume these activities as soon as it can be done safely. In the meantime, additional ways that you can help out around the parks are to make sure you dispose of any trash properly, to pack out what you pack in, and to pick up any litter you might encounter on your next trip through The Parklands. To be added to the list of park supporters that will be contacted about our upcoming volunteer opportunities, fill out our volunteer application here.
With a wide variety of activities, resources, and special places for you to explore, The Parklands is a great place to accomplish your goals in the new year! No matter what resolutions you're considering for 2021, these parks offer a great place for you to learn new skills, try out new hobbies, exercise, and to get outside and enjoy nature. Plan your next visit at theparklands.org!