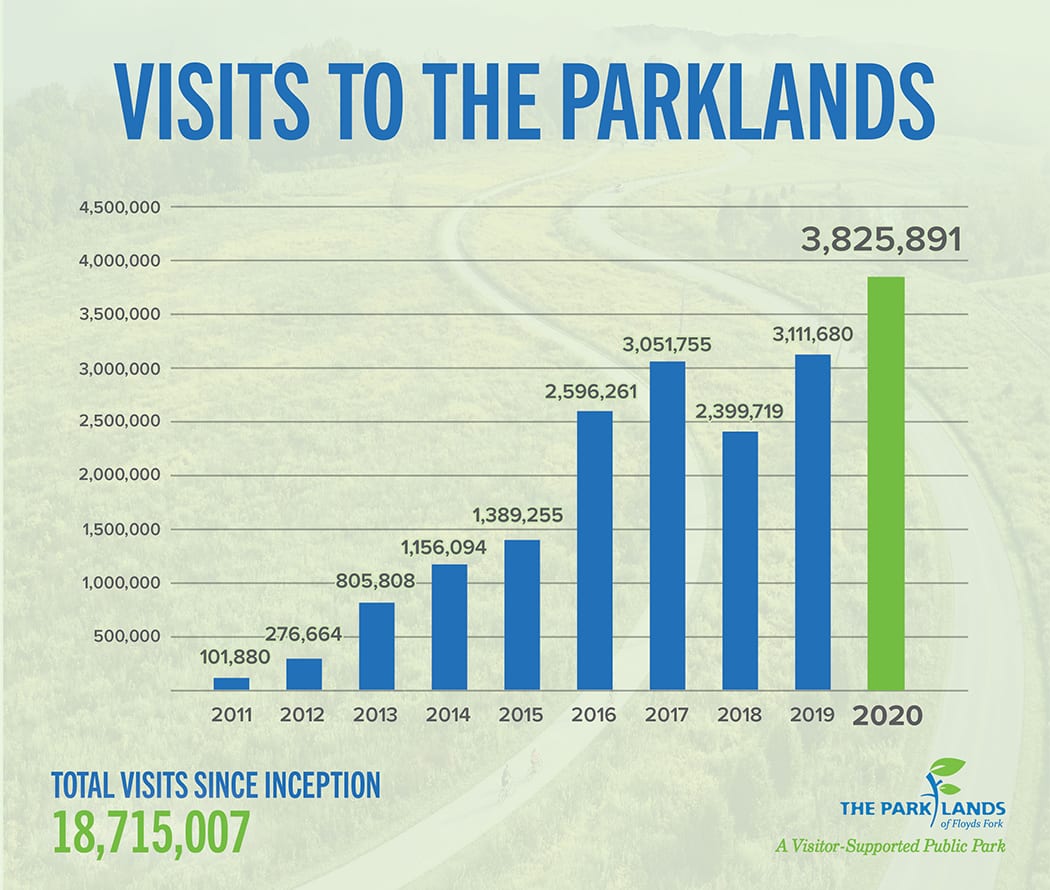 2020 Visitation to The Parklands Approaches 4 Million
Beckley Creek Park, Broad Run Park, Pope Lick Park, The Strand, Turkey Run Park
Louisville, Ky. (January 8, 2021) — The Parklands of Floyds Fork experienced record-breaking visitation in 2020 as visitors from throughout the region sought a safe place for recreation, relaxation and recharging. Park staff recorded a total of 3,825,891 visits to the nearly 4,000-acre park system from January 1 – December 31, 2020. The former record was 3.1 million visits in 2019.
"Just about every aspect of our park programming was impacted by the pandemic," said David Morgan, President of The Parklands of Floyds Fork. "Even so, we were able to continue serving the community by providing access to safe outdoor amenities."
The Parklands has experienced increasing visitation since it opened its first amenity in 2011, but the sharp jump between 2019 and 2020 is a testament to the critical role parks have played during the pandemic.
"[The Parklands] was our spot for socially distanced picnics with my daughter and grandkids, so we could see and visit with them," said park visitor Linda Gillespie in response to a recent post on The Parklands Facebook page. "We also took several rides through the park when we started getting cabin fever. One evening this fall, we just sat and watched the sun set."
From the city's initial shutdown in March, throughout the various phases of reopening, park staff made adjustments to comply with changing guidelines, keeping visitors safe and engaged.
"Our team rose to the occasion," Morgan said. "Their versatility and creativity allowed us to continue providing a world-class experience for all through innovative solutions, including micro-events, virtual hikes and online educational content. We'll carry that momentum and agility into the new year to serve the community through the rest of this pandemic and beyond."
In the spring, The Parklands' education team quickly pivoted to a digital platform to continue the weekly Wednesday Wonders program, sponsored by PNC, as well as to provide resources to support partner schools, teachers and families during remote learning using The Parklands Virtual Classroom. They continue to update the Virtual Classroom with fresh content, as well as offer in-person support for non-traditional instruction through the new Forest Learning Lab program, set to resume later this month.
Many events in the park were canceled or converted to a virtual format, but some, like the Creature Feature Movie Nights and Winter Illuminations Trail Walk, downsized or implemented rules and protocols to limit gatherings and ensure social distancing. Some couples opted to downsize to a "micro-wedding" versus rescheduling, and some businesses worked with The Parklands' events team to create an outdoor workspace for their associates.
Rental, permit and lease fees collected for events hosted in The Parklands go directly toward supporting the donor and visitor-supported public park, which does not receive tax dollars for annual operations. Learn more about The Parklands, donate to become a Member and plan your next visit at www.theparklands.org.
For more information on The Parklands of Floyds Fork, please contact Anna Rosales-Crone at 502-815-0267 or acrone@21cparks.org.
Discover The Parklands of Floyds Fork
The Parklands of Floyds Fork is a nearly 4,000-acre visitor-supported public park system in Louisville, Kentucky, stretching from Shelbyville Road to Bardstown Road. It consists of four major parks—Beckley Creek Park, Pope Lick Park, Turkey Run Park and Broad Run Park—linked by a world-class urban trail system and a remarkable water trail tracing Floyds Fork, a classic Kentucky stream. Serving more than 3 million visits each year, The Parklands offers something for everyone, whether you are looking for a quiet place to discover nature, a dynamic learning experience through the Outdoor Classroom, a cruise on a scenic park drive, or a stream to paddle. The Parklands is free to enter, but does not receive tax dollars for annual upkeep or operations. Ongoing maintenance and operations are funded through private donations, program and event fees, and an endowment fund. Donate today to become a Parklands Member and support the parks you know and love. Learn more and plan your next visit at www.theparklands.org.
For regular updates on what's happening in The Parklands, subscribe to our e-mail newsletter at www.theparklands.org, follow us on Facebook @theparklandsoffloydsfork, Twitter @TheParklands and Instagram @theparklandsoffloydsfork. Check out our YouTube channel – TheParklands1 – for trail previews and educational activities.