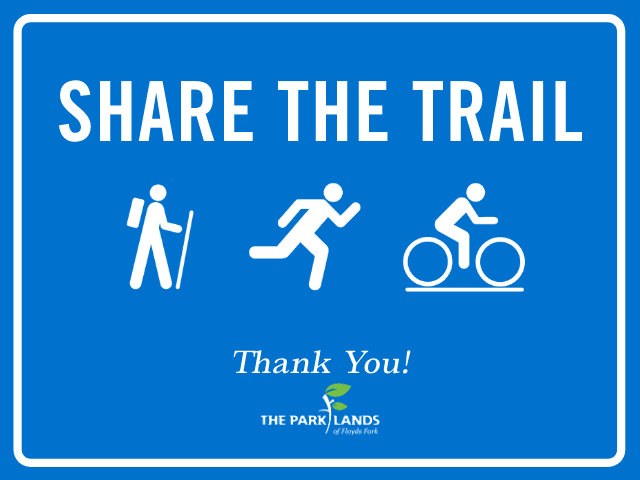 The Parklands Launches Trail Sharing Campaign and Contest
Louisville, Ky. (May 7, 2021) — New signs posted throughout The Parklands of Floyds Fork encourage visitors to "Share the Trail". The Parklands offers visitors 60 miles of trail to explore on foot or bike. Select trails are restricted to one type of activity, but pedestrians and cyclists share the majority of trails.
"Our park visitors come from all walks of life and use the trails for everything from a leisurely bike ride, to marathon training, to walking the dogs," said David Morgan, President of The Parklands of Floyds Fork. "By being aware and taking the time to show courtesy to your fellow visitors, you can help keep The Parklands safe and enjoyable for all."
Posted guidance for trail users includes:
Travel at a safe speed
Keep right and pass on the left
Slow down and alert others when passing
Do not block the trail
Be alert
Keep dogs on a leash at all times (LMCO 91.091)
No unauthorized motorized vehicles
The visitor-supported park system experiences an uptick in visitation during the warmer months, which means increased trail use along the Louisville Loop, as well as other shared-use trails in Beckley Creek, Pope Lick, Turkey Run and Broad Run parks.
In addition to seasonal surges, The Parklands experienced a 23% increase in visitation in 2020 compared to 2019 as people sought safe, outdoor spaces to recreate, relax and recharge. The record use shows no sign of slowing down. Parklands' traffic counters show 2021 visitation at 983,735 through April 30; in 2020, there were 984,384 visits through April 30.
As more people discover The Parklands, it becomes even more important for each visitor to practice trail etiquette, ensuring the trails remain safe for all. In the weeks ahead, The Parklands will post trail etiquette tips to Facebook, Twitter and Instagram. Visitors are encouraged to share the tips to help spread the word.
Share the Trail Contest
Throughout the month of May, visitors can also participate in The Parklands Share the Trail social media contest to be entered for a chance to win a Parklands' prize package that includes a $100 Friends & Family Gift Certificate from Blue Moon Canoe & Kayak, a copy of The Parklands commemorative book, a full set of park trail guides, and more!
To enter the contest:
Share an image of yourself while on your favorite trail on Facebook, Twitter or Instagram
Tag The Parklands
Include #ShareTheTrails
A winner will be drawn from those who enter on Tuesday, June 1, 2021.
Maps with more trail information, including routes, mileage, and level of difficulty can be found at park trailheads and kiosks or online before your visit at www.theparklands.org. For more information on the campaign, contact Director of Communications & Marketing Anna Rosales-Crone at (502) 815-0267 or acrone@21cparks.org.
Discover The Parklands of Floyds Fork
The Parklands of Floyds Fork is a nearly 4,000-acre visitor-supported public park system in Louisville, Kentucky, stretching from Shelbyville Road to Bardstown Road. It consists of four major parks—Beckley Creek Park, Pope Lick Park, Turkey Run Park and Broad Run Park—linked by a world-class urban trail system and a remarkable water trail tracing Floyds Fork, a classic Kentucky stream. Serving more than 3 million visits each year, The Parklands offers something for everyone, whether you are looking for a quiet place to discover nature, a dynamic learning experience through the Outdoor Classroom, a cruise on a scenic park drive, or a stream to paddle. The Parklands is free to enter, but does not receive tax dollars for annual upkeep or operations. Ongoing maintenance and operations are funded through private donations, program and event fees, and an endowment fund. Donate today to become a Parklands Member and support the parks you know and love. Learn more and plan your next visit at www.theparklands.org.
For regular updates on what's happening in The Parklands, subscribe to our e-mail newsletter at www.theparklands.org, follow us on Facebook @theparklandsoffloydsfork, Twitter @TheParklands and Instagram @theparklandsoffloydsfork. Check out our YouTube channel – TheParklands1 – for trail previews and educational activities.
###