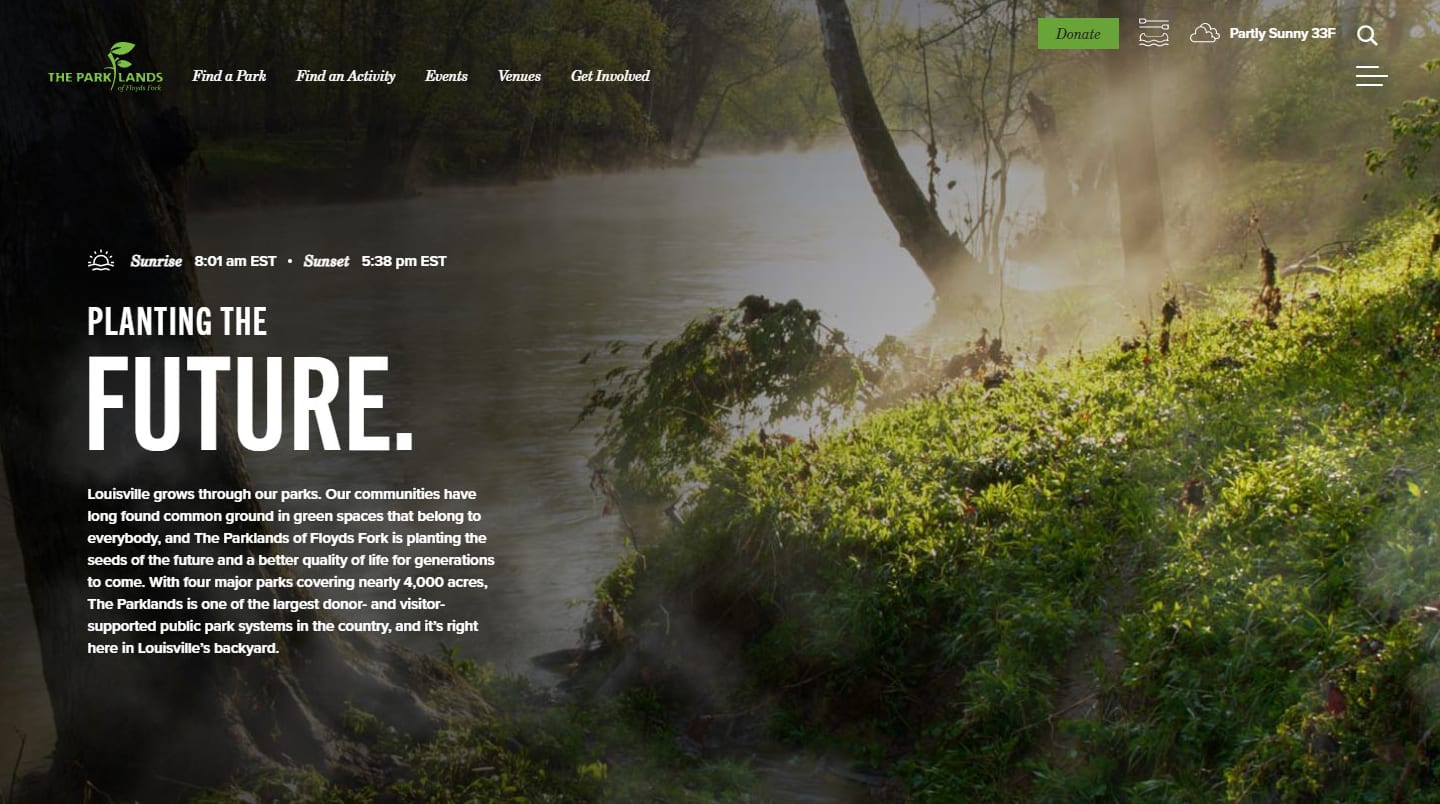 The Parklands Launches New Website Designed by Local Firm
Beckley Creek Park, Broad Run Park, Pope Lick Park, The Strand, Turkey Run Park
Louisville, Ky. (January 15, 2021) — The Parklands of Floyds Fork launched a redesigned website on Thursday, January 14, 2021. The web address remains the same, but visitors will notice a new look and layout to help them plan their next outing to the nearly 4,000-acre park system.
The site was designed by Mightily, a full-service brand-advertising firm located in Louisville, KY. Selected for the project in late 2019, the agency worked with park staff to reorganize and develop a fresh look to entice new visitors to discover The Parklands, as well as help returning visitors explore new areas.
The Parklands of Floyds Fork is comprised of four parks—Beckley Creek Park, Pope Lick Park, Turkey Run Park and Broad Run Park. All four parks have been open since 2016 and are connected by 27 miles of Floyds Fork and 19 miles of the fully-accessible Louisville Loop trail. More than 80 miles of trails wind through the parks, offering many scenic locations for walking, biking, paddling, fishing, picnicking, learning, competing, sightseeing, gardening and tail-wagging.
The visitor-supported park system experienced record-breaking visitation in 2020. Park staff recorded a total of 3,825,891 visits from January 1 – December 31, 2020. The former record was 3.1 million visits in 2019. To view the new website and plan your next visit to The Parklands, visit www.theparklands.org. For more information on The Parklands of Floyds Fork, please contact Anna Rosales-Crone at 502-815-0267 or acrone@21cparks.org.
Discover The Parklands of Floyds Fork
The Parklands of Floyds Fork is a nearly 4,000-acre visitor-supported public park system in Louisville, Kentucky, stretching from Shelbyville Road to Bardstown Road. It consists of four major parks—Beckley Creek Park, Pope Lick Park, Turkey Run Park and Broad Run Park—linked by a world-class urban trail system and a remarkable water trail tracing Floyds Fork, a classic Kentucky stream. Serving more than 3 million visits each year, The Parklands offers something for everyone, whether you are looking for a quiet place to discover nature, a dynamic learning experience through the Outdoor Classroom, a cruise on a scenic park drive, or a stream to paddle. The Parklands is free to enter, but does not receive tax dollars for annual upkeep or operations. Ongoing maintenance and operations are funded through private donations, program and event fees, and an endowment fund. Donate today to become a Parklands Member and support the parks you know and love. Learn more and plan your next visit at www.theparklands.org.
For regular updates on what's happening in The Parklands, subscribe to our e-mail newsletter at www.theparklands.org, follow us on Facebook @theparklandsoffloydsfork, Twitter @TheParklands and Instagram @theparklandsoffloydsfork. Check out our YouTube channel – TheParklands1 – for trail previews and educational activities.