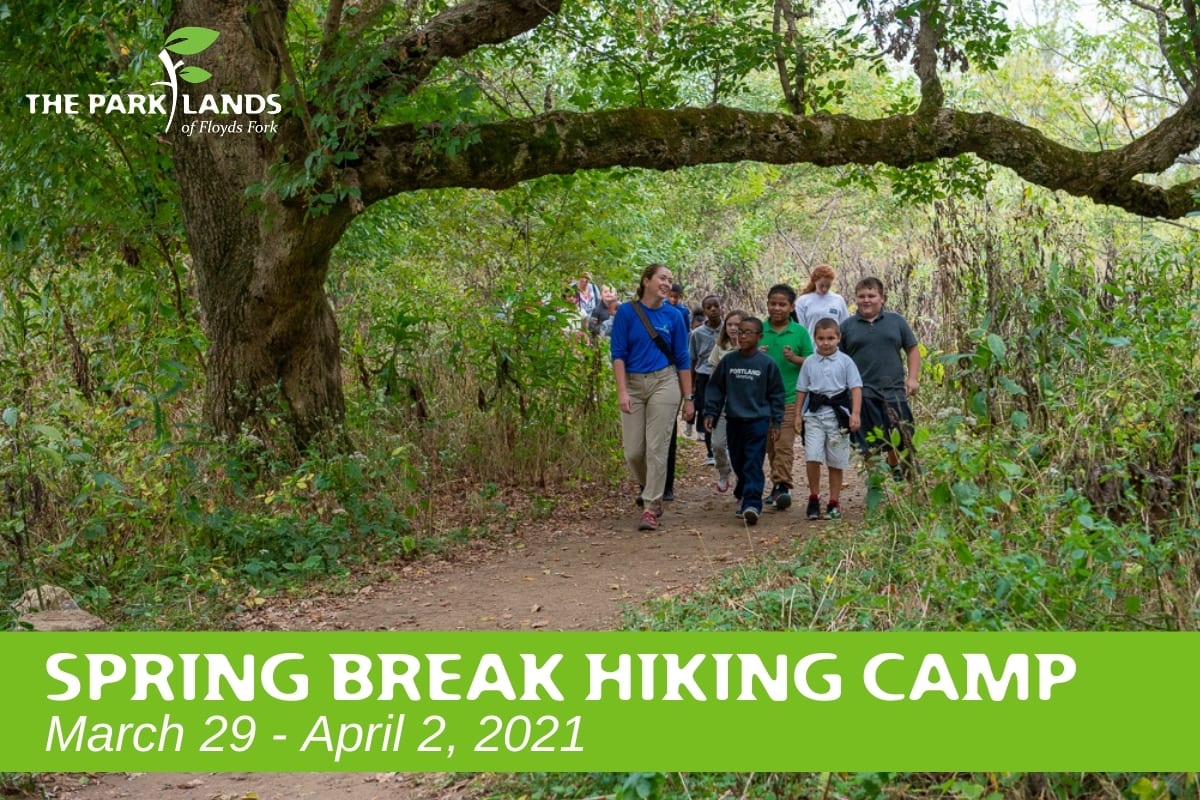 Registration Open for 2021 Spring Break Hiking Camp at The Parklands
Beckley Creek Park
Media Contact:
Anna Rosales-Crone, Director of Communications & Marketing­­
(502) 815-0267
FOR IMMEDIATE RELEASE
Louisville, Ky. (March 16, 2021) — Registration for Spring Break Hiking Camp at The Parklands is now open. Each day of camp, participants explore a new trail in Beckley Creek Park while investigating the flora and fauna that call the park home. Eagles, deer, raccoons, and fish are just some of the wildlife participants have a chance to see while exploring the park.
Spring Break Hiking Camps are from 9 a.m. – 4 p.m. Monday, March 29 through Friday, April 2. Families can select individual days of camp, or book the full week at a discounted rate. Options for beginner and experienced hikers are available to help ensure your child has a fun, enjoyable experience.
Beginner Hiking – Best for kids in grades K-3 who can cover 2-3 miles per day.
Experienced Hiking – Best for kids in grades 4-6 who can cover 4-5 miles per day.
Pricing and Registration
Register at www.theparklands.org/camps. Spring Break Camp is $45 per day for Parklands Members or $50 per day for non-members. Save an additional $15 if you sign-up for all 5 days. Enter code BOOTS at checkout.
Registration is also open for upcoming summer camps and the ongoing Forest Learning Lab, which provides a structured day of remote learning, homework help, and outdoor exploration time for kids in grades K-6 during NTI. The safety of participants and staff is a top priority, so The Parklands has instituted policies and procedures in accordance with state and local guidelines in an effort to slow the spread of COVID-19.
For more information on education programs at The Parklands, please visit www.theparklands.org/learning. You can reach Education Director Curtis Carman at 502-815-0274 or ccarman@21cparks.org.
Discover The Parklands of Floyds Fork
The Parklands of Floyds Fork is a nearly 4,000-acre visitor-supported public park system in Louisville, Kentucky, stretching from Shelbyville Road to Bardstown Road. It consists of four major parks—Beckley Creek Park, Pope Lick Park, Turkey Run Park and Broad Run Park—linked by a world-class urban trail system and a remarkable water trail tracing Floyds Fork, a classic Kentucky stream. Serving more than 3 million visits each year, The Parklands offers something for everyone, whether you are looking for a quiet place to discover nature, a dynamic learning experience through the Outdoor Classroom, a cruise on a scenic park drive, or a stream to paddle. The Parklands is free to enter, but does not receive tax dollars for annual upkeep or operations. Ongoing maintenance and operations are funded through private donations, program and event fees, and an endowment fund. Donate today to become a Parklands Member and support the parks you know and love. Learn more and plan your next visit at www.theparklands.org.
For regular updates, subscribe to our e-mail newsletter at www.theparklands.org, follow us on Facebook @theparklandsoffloydsfork, Twitter @TheParklands and Instagram @theparklandsoffloydsfork. Check out our YouTube channel – TheParklands1 – for trail previews and educational activities.