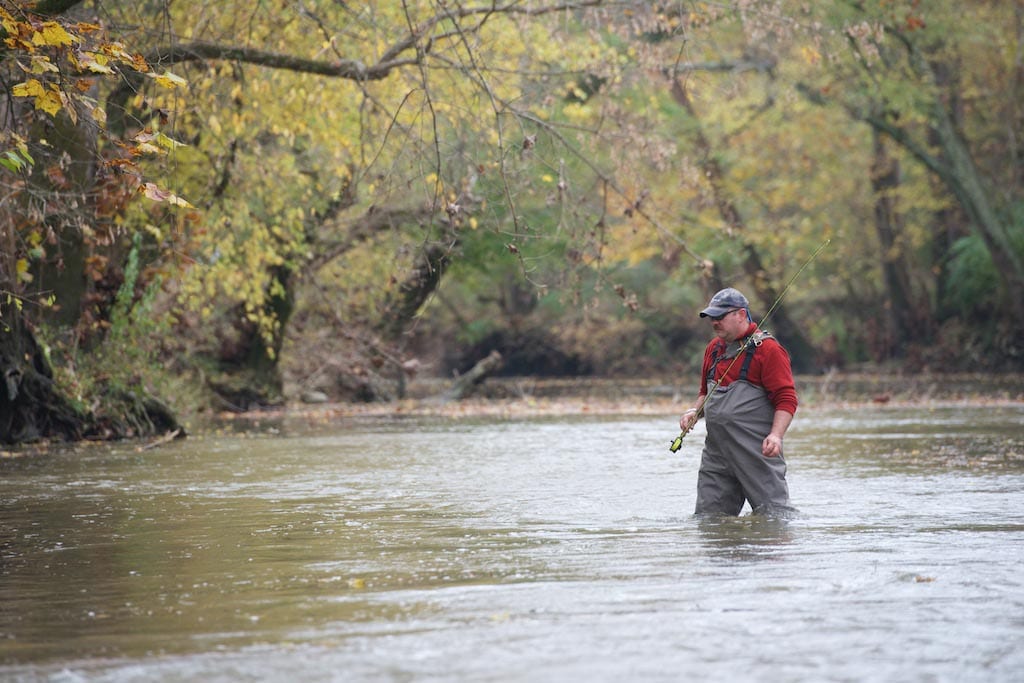 Rainbow Trout Stocking Increase at The Parklands of Floyds Fork
Beckley Creek Park, Pope Lick Park, The Strand, Turkey Run Park
Louisville, Ky. (March 1, 2022) — Floyds Fork will be stocked with an increased number of rainbow trout in 2022 thanks to the Kentucky Department of Fish and Wildlife Resources. The urban stream, located within The Parklands of Floyds Fork in eastern and southeastern Louisville, is scheduled to be stocked with a total of 12,000 trout throughout the year—more than tripling the amount received in previous years.
The first stocking of the year took place on Friday, February 11, 2022, and additional stockings are scheduled for March, April, October, November and December. Trout for Floyds Fork are now stocked at five locations within The Parklands, including a site located at the Cane Run Paddling Access in The Strand, a narrow section of land connecting the park system. The Strand offers visitors great fishing spots accessible via the Louisville Loop trail.
While the Cane Run Paddling Access and The Strand trailhead provide visitors access to this special and scenic area of The Parklands, additional work was required to permit trout stocking. Thanks to a grant from Derby City Fly Fishers, improvements were made to the Cane Run Paddling Access, which will allow Kentucky Fish and Wildlife to stock trout directly to Floyds Fork in The Strand. Cane Run Paddling Access is closed during the winter and will reopen to the public later this month.
"During the cooler months, the department stocks trout raised at the U.S. Fish and Wildlife Service's Wolf Creek National Fish Hatchery into a number of streams around the state that won't support trout year-round," said Dave Dreves, Fisheries Division director for Kentucky Fish and Wildlife. "The Parklands of Floyds Fork affords so much public access to such a large population that we wanted to expand our trout stocking to additional months and over a wider area to provide a better fishing opportunity for anglers. We are grateful for the enthusiastic support of The Parklands staff and Derby City Fly Fishers."
Media Opportunity
What: Rainbow Trout Stocking at The Parklands of Floyds Fork
When: 3 p.m. Wednesday March 2, 2022
Where: Seaton Valley Paddling Access, Turkey Run Park, 13708 Seatonville Rd., Louisville, KY 40299
Members of the media and public are invited to join representatives from The Parklands of Floyds Fork, Kentucky Department of Fish and Wildlife Resources and Derby City Fly Fishers for a brief photo op as trout are stocked into Floyds Fork creek.
Fishing at The Parklands
Angler Lake and Green Heron Lake in Beckley Creek Park offer additional fishing opportunities in The Parklands. These lakes are part of the Fishing in Neighborhoods (FINs) program and receive regular stockings of rainbow trout and channel catfish. While not part of the FINs program, Boulder Pond in Turkey Run Park also receives occasional stockings of rainbow trout. Boulder Pond and Green Heron Lake feature ADA accessible fishing piers.
A statewide fishing license is required for anglers 16 and older. Anglers who are required to have a fishing license must have a trout permit in order to keep trout. Fishing licenses and permits can be purchased via fw.ky.gov and in person at license vendors throughout the state.
To conserve the trout stocked in Floyds Fork over a longer time period, there is a seasonal catch and release regulation from Oct. 1 through Mar. 31. All trout caught in Floyds Fork Creek during this period of time must be immediately released. For more information on fishing locations, stockings and regulations at The Parklands, visit www.theparklands.org/fishing. The trout stocking schedule in The Parklands and a map of trout stocking locations in Floyds Fork can be found on the KDFWR website at https://fw.ky.gov/Fish/Pages/Monthly-Trout-Stocking.aspx.
Click here for more information on the increased trout stocking, as well as tips from Lee McClellan on fishing at Floyds Fork!
Fishing Workshop
If you are new to fishing, join The Parklands education team, Kentucky Department of Fish and Wildlife Resources and Derby City Fly Fishers for a day of fishing and fun from 9 a.m. – 12 p.m. on Saturday, April 30, 2022, in Beckley Creek Park. Learn fishing skills while exploring what lives in Floyds Fork!
View full details on the fishing workshop and more upcoming events at www.theparklands.org/events. For media inquiries, contact Director of Communications & Marketing Anna Rosales-Crone at (502) 815-0267 or acrone@theparklands.org.
Discover The Parklands of Floyds Fork
The Parklands of Floyds Fork is a nearly 4,000-acre visitor-supported public park system in Louisville, Kentucky, stretching from Shelbyville Road to Bardstown Road. It consists of four major parks—Beckley Creek Park, Pope Lick Park, Turkey Run Park and Broad Run Park—linked by a world-class urban trail system and a remarkable water trail tracing Floyds Fork, a classic Kentucky stream. Serving more than 3 million visits each year, The Parklands offers something for everyone, whether you are looking for a quiet place to discover nature, a dynamic learning experience through the Outdoor Classroom, a cruise on a scenic park drive, or a stream to paddle. The Parklands is free to enter, but does not receive tax dollars for annual upkeep or operations. Ongoing maintenance and operations are funded through private donations, program and event fees, and an endowment fund. Donate today to become a Parklands Member and support the parks you know and love. Learn more and plan your next visit at www.theparklands.org.
For regular updates on what's happening in The Parklands, subscribe to our e-mail newsletter at www.theparklands.org, follow us on Facebook @theparklandsoffloydsfork, Twitter @TheParklands and Instagram @theparklandsoffloydsfork. Check out our YouTube channel – TheParklands1 – for trail previews and educational activities.