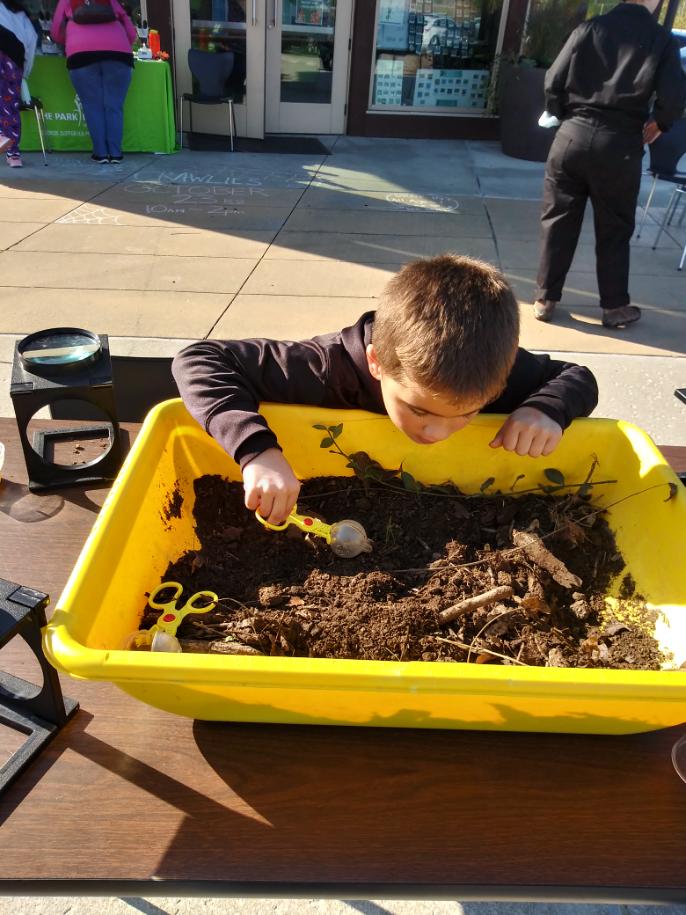 Junior Explorer Returns to Huge Success!
Beckley Creek Park, Broad Run Park, Pope Lick Park, Turkey Run Park
We kicked off the return of our Junior Explorer program with a creepy crawlies themed event just in time for Halloween. After a break due to Covid, many families were delighted to see the return to this well-loved event. Children got to explore a bat-cave, walk on a spooky trail, take home arts and crafts and learn at our science tables. Some kid favorites were looking through the microscopes to see bug adaptations up close, rummaging around in a bin full of animal bones found in the park, learning the parts of an insect and making them out of pom poms, and digging in the dirt to look for decomposers. As always, Ranger Russell, our resident box turtle was the star of the show! Kids got a chance to meet him and pet him throughout the event. Many kids got to go home with a special prize for sporting their Halloween best and everyone walked away with a smile!
Junior Explorer plans to return to its regular quarterly schedule next year! We plan to do four programs throughout 2022 that will all include games, activities, and fun for the whole family! A full Junior Explorer schedule can be found below. Keep an eye on our Facebook page and website for times, locations, and activities!
Saturday February 12, 2022
Saturday May 21, 2022
Saturday August 20, 2022
Saturday October 22, 2022
Junior Explorer is a family friendly program that is open to all age groups with activities geared towards pre-k through 12-year-olds. It is a walk-in style event that explorers a different nature topic each time. Thank you to all the families who made it out to this great event and all the volunteers who helped make it a great success! Take a look at some photo highlights below provided by Junior Explorer participant and parent Amanda Ahlbrand. We hope to see you at the next Junior Explorer!