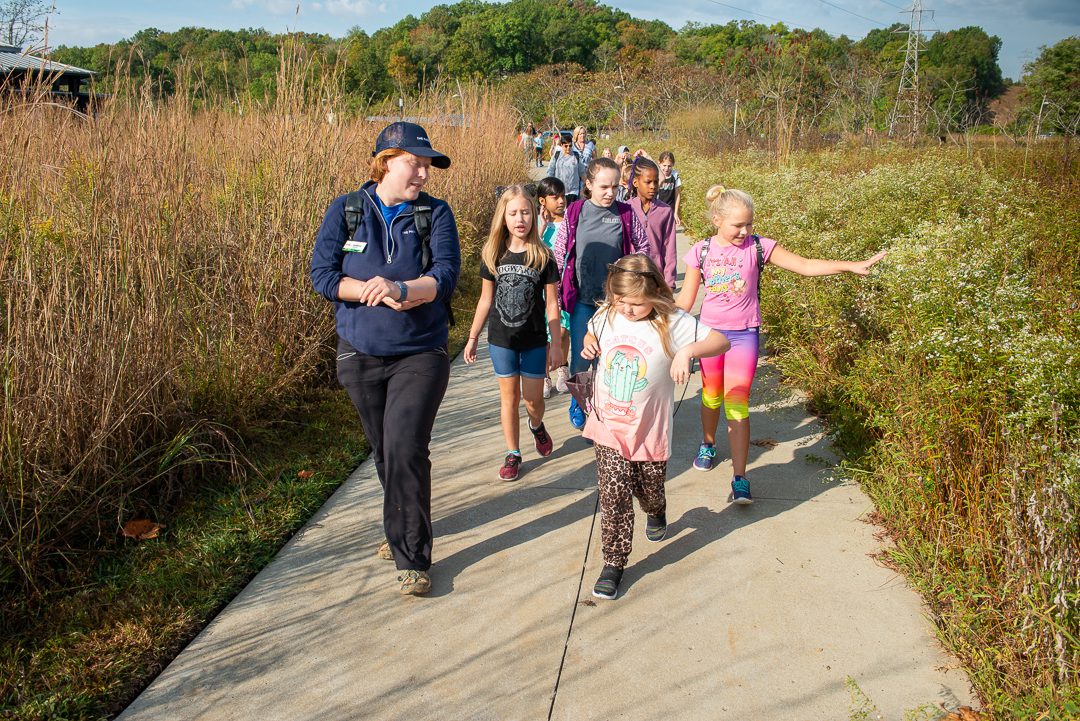 Educator at The Parklands Receives Award from KAEE
Louisville, Ky. (September 2, 2021) — On Thursday, September 2, 2021, The Kentucky Association for Environmental Education (KAEE) announced the winners of their annual Excellence in Environmental Education awards. The 2021 winners include Parklands' Education Specialist Erin Kinnetz who received the Rising Star in Environmental Education award for her work leading and supporting programs through The Parklands Outdoor Classroom.
Awarded each year since 2001, the KAEE Excellence Awards recognize the outstanding achievements of individuals, organizations, agencies, schools, and businesses in the field of environmental education. The KAEE is one of the country's oldest associations supporting environmental education and the first affiliate of the North American Association for Environmental Education. KAEE works with members and partners to bring sound environmental education to all Kentuckians and to ensure that education about the environment will be taught in every classroom in Kentucky.
Kinnetz has been with The Parklands for four years. In that time, she has greatly elevated the scientific content presented during school field trips, outreach, and adult education programs. She oversees the weekly Wednesday Wonders program designed to engage pre-k and elementary-aged students and their families. Before the pandemic, Kinnetz hosted the program twice each Wednesday, engaging more than 500 students and families. When the pandemic shut down in-person gatherings, she immediately pivoted to a virtual program, recording brief videos covering topics and activities that families could view and conduct at home. While virtual, Kinnetz never missed a single Wednesday and even expanded her following.
In total, since the pandemic began, The Parklands virtual education content, dubbed the Virtual Classroom, has garnered tens of thousands of views on YouTube and Facebook. In addition to Kinnetz's hard work creating and presenting virtual environmental education content, she was also instrumental in the development of the Forest Learning Lab at The Parklands. At Forest Learning Lab, students received help completing their NTI curriculum while also getting time to hike, creek walk, and explore nature. The Forest Learning Lab hosted more than 1,000 students during the 2020-21 school year with more than 600 of those students hosted for free on a scholarship basis.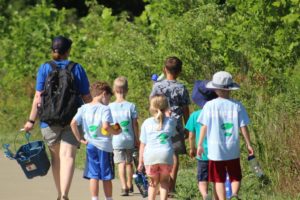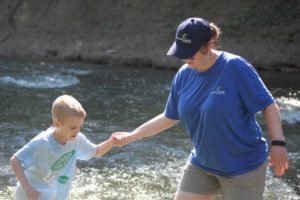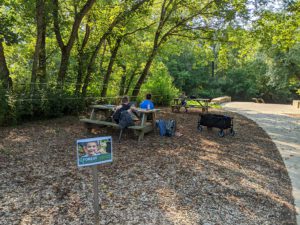 "Because of Erin's hard work and dedication to the field of environmental education, The Parklands has actually been able to grow its programming—even during a pandemic," said Director of Education and Programming Curtis Carman. "Erin's knowledge, patience, enthusiasm, and passion make her very deserving of this award."
Kinnetz has an undergraduate degree in scientific illustration and a Master of Science in Biology with a special emphasis on Ecology.
For more information on educational programs and upcoming events at The Parklands, visit www.theparklands.org/events. To schedule an interview, contact Director of Communications & Marketing Anna Rosales-Crone at (502) 815-0267 or acrone@21cparks.org.
Discover The Parklands of Floyds Fork
The Parklands of Floyds Fork is a nearly 4,000-acre visitor-supported public park system in Louisville, Kentucky, stretching from Shelbyville Road to Bardstown Road. It consists of four major parks—Beckley Creek Park, Pope Lick Park, Turkey Run Park and Broad Run Park—linked by a world-class urban trail system and a remarkable water trail tracing Floyds Fork, a classic Kentucky stream. Serving more than 3 million visits each year, The Parklands offers something for everyone, whether you are looking for a quiet place to discover nature, a dynamic learning experience through the Outdoor Classroom, a cruise on a scenic park drive, or a stream to paddle. The Parklands is free to enter, but does not receive tax dollars for annual upkeep or operations. Ongoing maintenance and operations are funded through private donations, program and event fees, and an endowment fund. Donate today to become a Parklands Member and support the parks you know and love. Learn more and plan your next visit at www.theparklands.org.
For regular updates on what's happening in The Parklands, subscribe to our e-mail newsletter at www.theparklands.org, follow us on Facebook @theparklandsoffloydsfork, Twitter @TheParklands and Instagram @theparklandsoffloydsfork. Check out our YouTube channel – TheParklands1 – for trail previews and educational activities.
###