We get many floods throughout the year, as many as 15 flood events in which we have to close down a trail or road, and many smaller scale floods. Our riparian habitats are adapted to these regular disturbances. During the summer, we don't get many floods, but during the winter and spring, the creek livens up. Going down to one of our many gravel bars after a flood is exciting as it is sure to be different than the last time. Maybe an old rotten tree has been knocked down and carried downstream to act as a new balance beam or the start of a great new fort.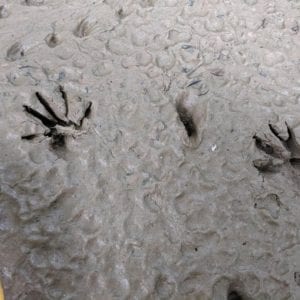 Floods carry logs, bones, mussel shells, fossils, trash and deposit them on gravel bars as the water recedes. Even the trash can be interesting after a little research! We once found an old glass bleach bottle that hasn't been sold in over a hundred years.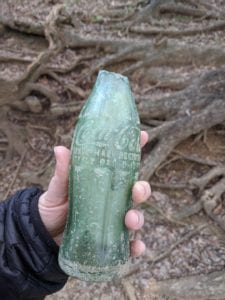 Sometimes the flood creates microhabitats on the gravel bar. These are small pools filled with fish, crawdads, mussels and other invertebrates. Humans are not the only ones to know this either. Great blue herons and raccoons like to visit these pools and gobble up all the trapped snacks.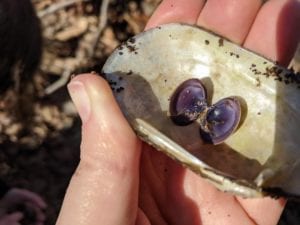 After a flood comes and goes, see what treasures get washed ashore. Two recommended trails for easy gravel bar access: In Beckley Creek Park, hop on the Sycamore trail and in Turkey Run Park, head on down the Boone Bottoms trail in order to find your way down to the water. Please practice Leave No Trace by leaving all the natural objects, such as fossils and mussel shells, but feel free to pack an extra bag and sturdy gloves to collect a little trash in order to help keep our park clean, safe and beautiful. Be prepared to get muddy since the ground will be saturated with water. Don't walk into any fast moving water; you can always check the CFS on our website to get an idea of how high and fast the water is before heading out to the park (look for the orange paddling icon).