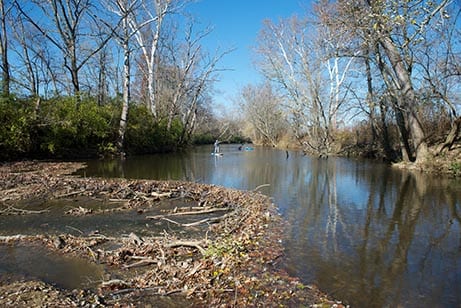 Creek, Fishing Spot, Floyds Fork
–
Trout Stocking for Floyds Fork
Beckley Creek Park
Floyds Fork in Beckley Creek Park will be stocked with trout on Wednesday, October 20, 2021. Trout for Floyds Fork are stocked at North Beckley Paddling Access, Creekside Paddling Access and Thornton Bridge. This stocking is provided thanks to the Kentucky Department of Fish and Wildlife's Fishing in Neighborhoods (FINs) program.
A statewide fishing license is required for anglers 16 and older. A trout permit is required to keep trout. For more information on fishing at The Parklands, visit www.theparklands.org/fishing.
Seasonal Trout Regulation
To preserve the diversity of fish found in Floyds Fork, trout are under a seasonal catch and release regulation from Oct. 1 through Mar. 31. All trout caught in Floyds Fork Creek during this period of time must be immediately released.