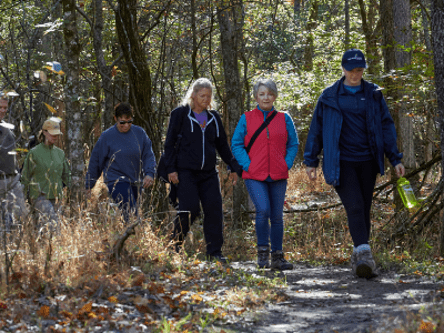 Parklands Walking Club
Pope Lick Park
This monthly morning walking club will meet and trek all over The Parklands exploring our 60+ miles of trails and nearly 4,000 acres. Each month will feature a new trail. Bring your personal travel mug and fill up on coffee or tea before the hike and we will enjoy a leisurely stroll. This ranger led hike will walk at a relaxed pace to encourage conversation while sipping our morning coffee. Bring a friend or come solo and join The Parklands community!
Meet our rangers at the designated trailhead every month at 8:30 a.m. One of our Interpretive Rangers will be waiting with coffee and the hike will begin at 8:45 a.m.
August 2 – Pope Lick Park to Distillery Bend
Hard Surface, 3.5 miles round-trip
Meet at Pope Lick Trailhead Parking Lot- Pope Lick Park
This event is free and open to all. Click the button below for a full list of hike dates and locations in 2022.