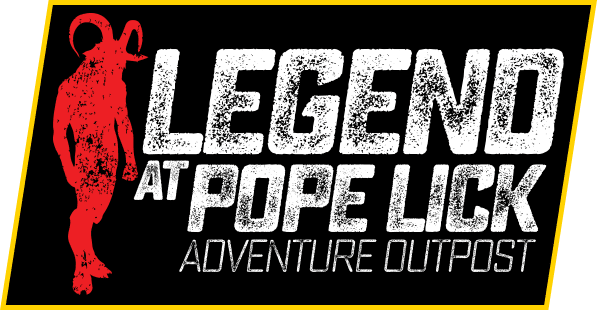 Legend at Pope Lick Adventure Post
Pope Lick Park
NOW OPEN! Legend at Pope Lick in Louisville, Kentucky offers year round fun & adventures. We are most well known for our SCARY Halloween attraction featuring the infamous Pope Lick Monster, Louisville's oldest folklore. Now you can enjoy a variety of fun adventures in Pope Lick Park where the Legend began.
Pope Lick Outpost gift & snack shop featuring a variety of unique items to have a fun adventure in this unique Louisville park. A wide selection of refreshing beverages and snacks including Dippin Dots. Looking for Pope Lick Monster and cryptid gifts? We've got that too!
NEW FOR 2023! Celebrating a birthday, bachelor, bachelorette, or work party? Looking for a unique Team Building Experience? For 2023 we've adding a party room to Pope Lick Park in Louisville that you can reserve for your group. Add-on an outdoor escape game, indoor escape room, food, and more! Let us help you curate a memorable event. Want something BIGGER? We can do that too! Contact us and let us help you make a memory.
Spring Hours:
Tuesday- Thursday 4:00pm-8:00pm
Friday by appointment
Saturday-Sunday 9:00am-8:00pm
https://www.mostfunyoueverhad.com/outpost/